Deliver Your Certification with Certible
Trust Certible's experience and expertise to deliver your certification program in a correct and customer-friendly way.
For all shapes and sizes
Established programs
Make the move to a customer-focussed exam service, with scheduling to suit candidates, and benefits to training providers such as detailed reporting
New Schemes
Whether you are just launching a certification scheme or are already operational, Certible can help your program get off the ground and support you as well as training providers and candidates.
Employee screening and training
Test potential hires or track onboarding progress with standardised online exams.
Omni-channel exam delivery
Online proctoring
Flexible, convenient appointments for any number of test takers.
On-site exams
Tablet-based tests with instant results or classic paper-based exams.
Test Centers
Offer test takers the additional convenience of Prometric® Test Centers, with locations worldwide.
Fully customisable service
Tailor the process and experience to your concept and requirements
Whether your program has prerequisites, written answers to be graded by specialists, simple multiple-choice exams or specialist question types.
Do it yourself or leave it to us
Easy-to-use exam authoring tools give you the power to create and modify exams yourself in an instant, or send us your exam to be imported.
Proctored or unproctored
Offer on-demand testing with no need for scheduling, or maintain integrity for higher-stakes tests with online proctoring.
Open or closed book tests
Chose on a per-test basis whether to allow the use of specified printed resources, internet research or other aids.
Totally Flexible Online Proctoring

Group exams online
Simultaneous examinations for groups, e.g. of course attendees or colleagues

Individual Appointments
Totally flexible individual appointments: for 1 or 100 candidates.
On-site exams
For groups, Certible can bring the invigilator and exam to company locations, whether for training providers or employers looking to certify their team.

Tablet-based exams
Our user-friendly tablet app allows us to evaluate exams instantly and provide results immediately.

Pen & paper tests
Whether for more complex question types, or simply for those who prefer a classic paper-based multiple-choice examination.

Trainer Proctoring
Flexible organisation combined with the convenience of on-site exam sessions: define training providers or other persons authorised to proctor exams, with organisation and evaluation by Certible.
---
Certified. Professional.
Thousands of professionals and numerous trainers and certification boards trust us to deliver certification in a correct and customer-friendly way. But don't just take our word for it - as a certification body we are well aware of the value of independent assessment.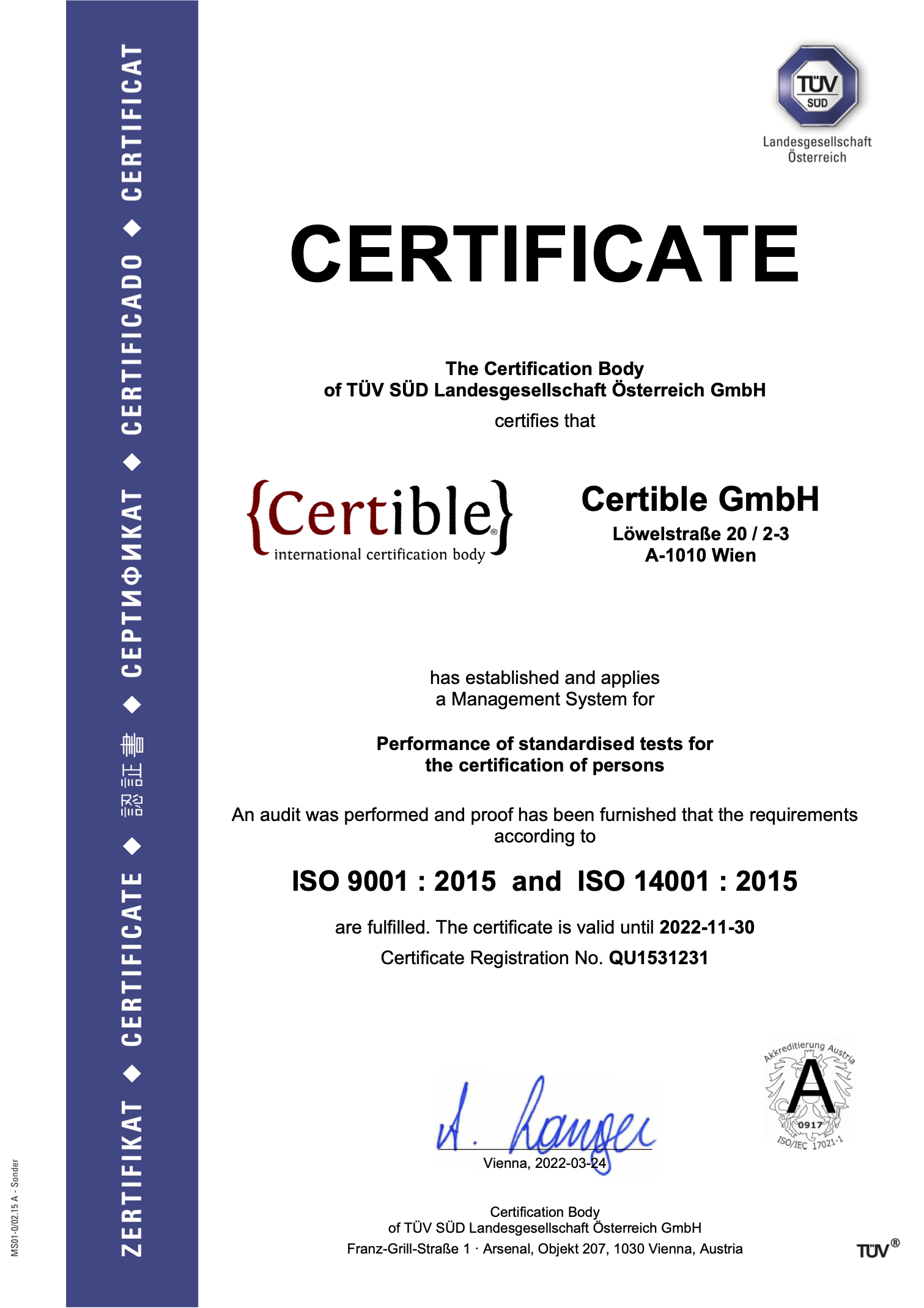 Our Quality Management System is ISO 9001:2015 certified by TÜV SÜD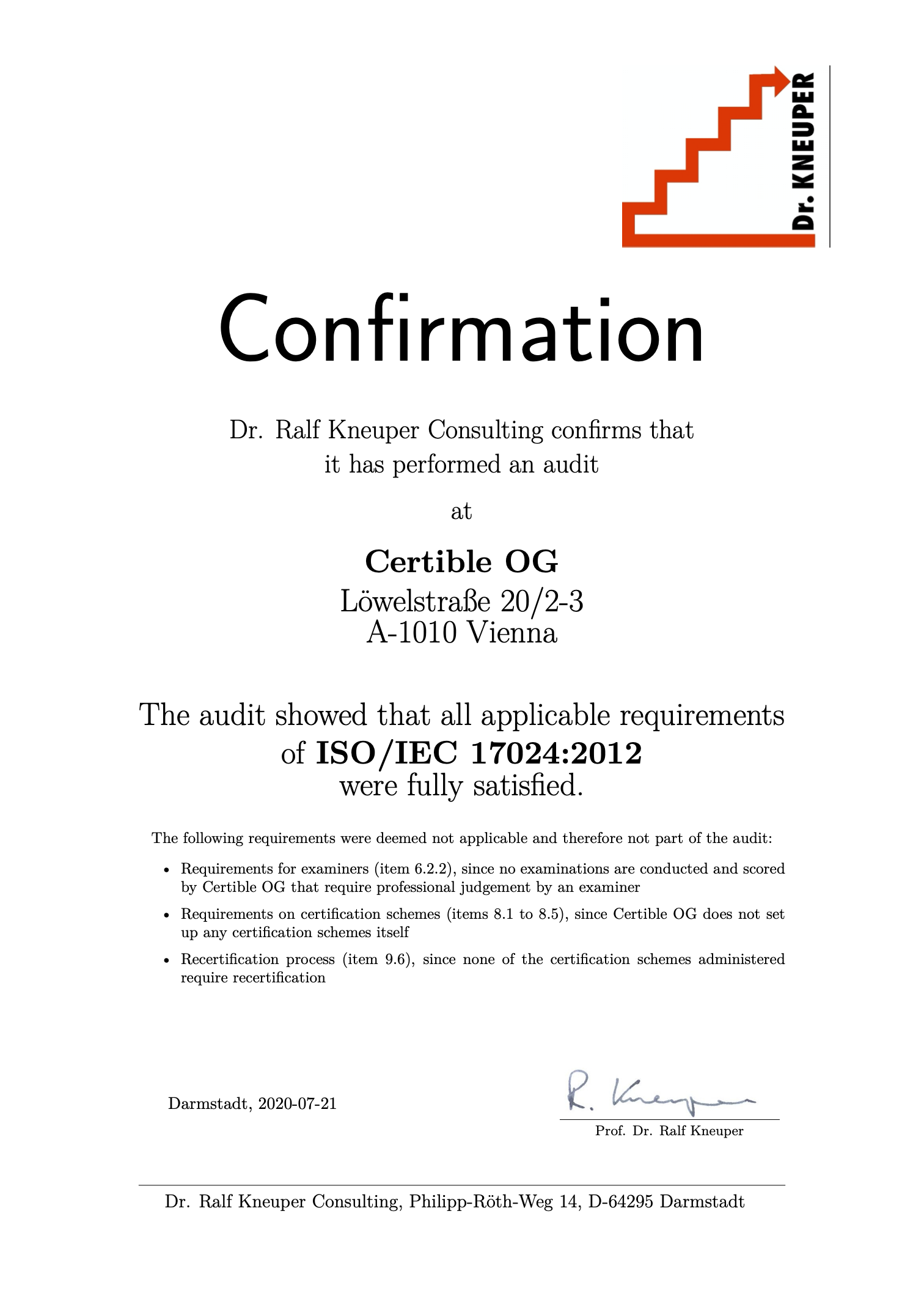 Our certification processes have been externally audited as ISO/IEC 17024:2012-compliant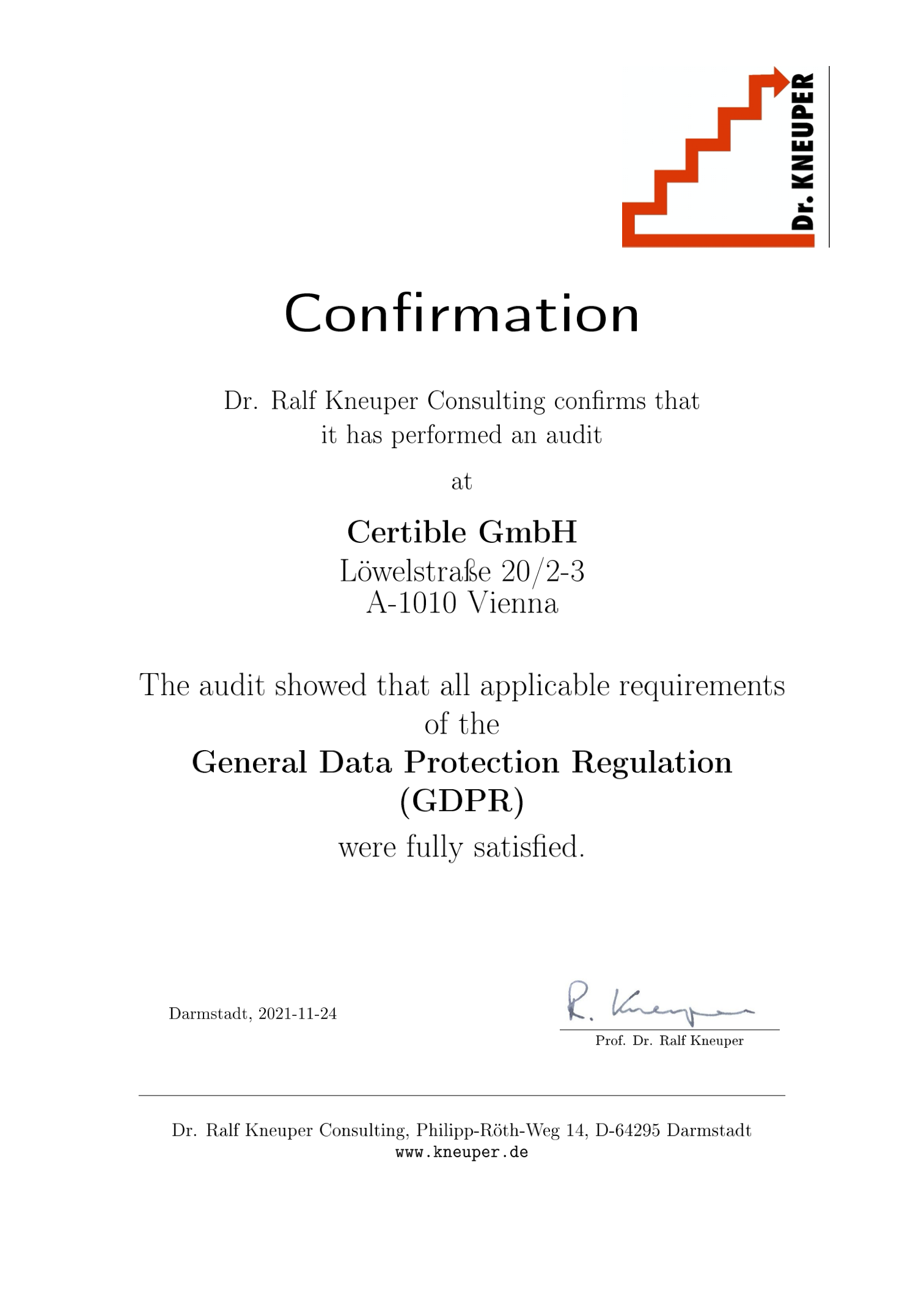 Certible's processes and policies have been externally audited as GDPR-compliant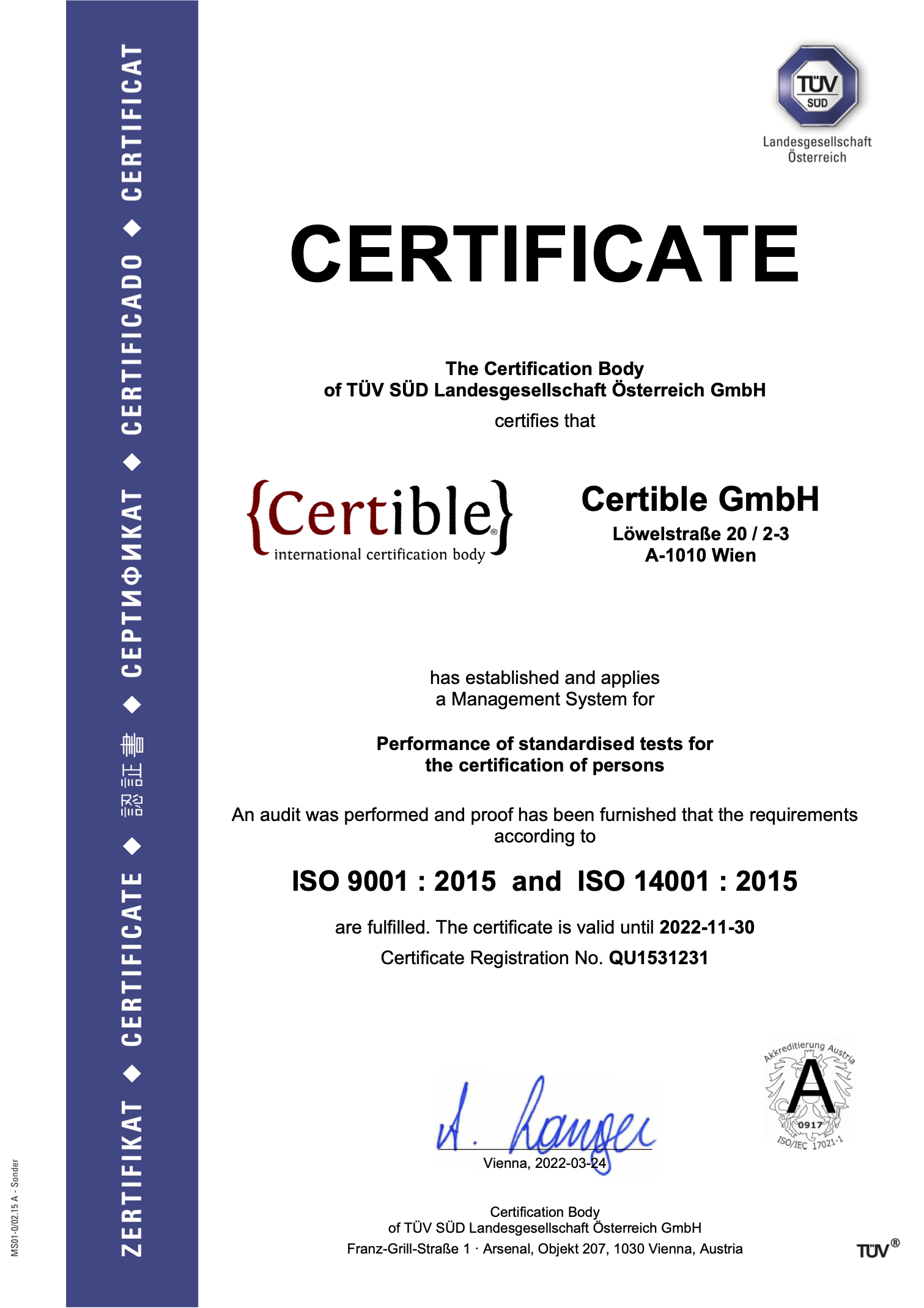 Our environmental management system has been externally certified as ISO 14001:2015 compliant by TÜV SÜD.